Visual Studio Live! Video Library
Preview the mix of practical and independent content available at Visual Studio Live! with session recordings on topics like Security, Angular, ASP.NET, Async Patterns, SQL Server Data Tools and Node.js.
Video #1: Role-Based Security Stinks: How to Implement Better Authorization in ASP.NET WebAPI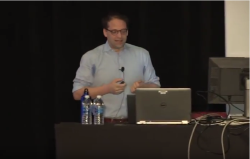 Watch Ben Day as he takes you through how to design, build, and test custom authorization schemes that handle more complex authorization scenarios. He covers:
What is IIdentity, IPrincipal, and role-based security?
What is claims-based authentication?
How to implement a custom IPrincipal?
How to implement a generic maintainable authorization system for an ASP.NET MVC & WebAPI app?
Estimated viewing time: 76 minutes

Video #2: Hack Proofing Your Modern Web Applications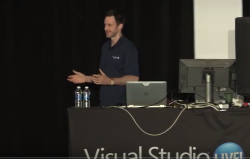 Watch Adam Tuliper's session on how to secure your modern web apps. He covers:
Why most existing applications can be hacked in some way
Details of common hack attacks in Modern Web Applications
Techniques for protecting your web applications against the most common attacks
Estimated viewing time: 75 minutes

Video #3: Database Development with SQL Server Data Tools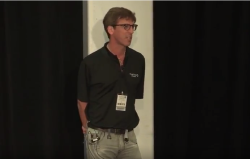 Watch Lenni Lobel's session on the current generation of database tools for application developers. He covers:
The benefits of database development with SSDT's declarative model-based architecture
How to understand the various SSDT features and capabilities (explorer, designers, schema compare, local database runtime, language services, debugging, and buffered editing)
How to design, test, and deploy on-premises databases, offline database projects, and Microsoft Azure SQL databases in the cloud all from inside Visual Studio
Estimated viewing time: 77 minutes

Video #4: Angular 2 101
Watch Deborah Kurata's beginner-level session that introduces the .NET developer to Angular 2. She covers:
An acronym-free description of concepts and terms
Key building blocks such as modules, components, and templates
A quick start to building successful Web applications with Angular 2
Estimated viewing time: 76 minutes

Video #5: Async Patterns for .NET Development
Watch Ben Dewey's session on asynchronous development using .NET. He covers:
How async and await work under the covers
How to avoid the common pitfalls of async code
How to create custom async and await scenarios from scratch
Estimated viewing time: 75 minutes

Video #6: Build Data-Driven Web Apps with ASP.NET Core
Watch Rachel Appel's session on building a complete web application using ASP.NET Core MVC. She covers:
How to build a complete app using ASP.NET Core MVC
How ASP.NET Core works to enable APIs and MVC to work together
Modify and access data in an API and consume in client or server code
Estimated viewing time: 66 minutes

Video #7: ASP.NET Core in All Its Glory
Watch Adam Tuliper's session on the newest ASP.NET release. He covers:
The changes to ASP.NET Core in Visual Studio
How this affects current applications
How ASP.NET Core is architected enabling it to run on multiple frameworks and operating systems
Estimated viewing time: 81 minutes

Video #8: A Practical Introduction to Node.js
Watch Rick Garibay's session on Node.js. He introduces you to:
Node.js programming fundamentals on Windows
Design considerations for building a URL shortening service
Building Node.js services that embrace REST/Hypermedia principles
Estimated viewing time: 58 minutes.